*12 actually but most of us are old so it felt like 24
We've been really feeling the love for Kintyre Gin lately. Until recently, this was mostly an online social media kind of love. This Saturday however was a chance for an official introduction of Kintyre Gin to the people of (and visitors of!) our local community in Carradale. We started off at Carradale Harbour Day where the Boar Bar was out and G&Ts were served to punters throughout the afternoon. There were many keen for a taste of Kintyre Gin and we were happy to see plenty repeat custom as well. It was no surprise to see that our bar was a roaring success as the whole of Carradale Harbour was a hive of activity! We were very lucky that, in what has been a rather wet summer so far, we got a dry day. Unfortunately the wind eventually picked up threatening to blow away our tent and it was time to pack up.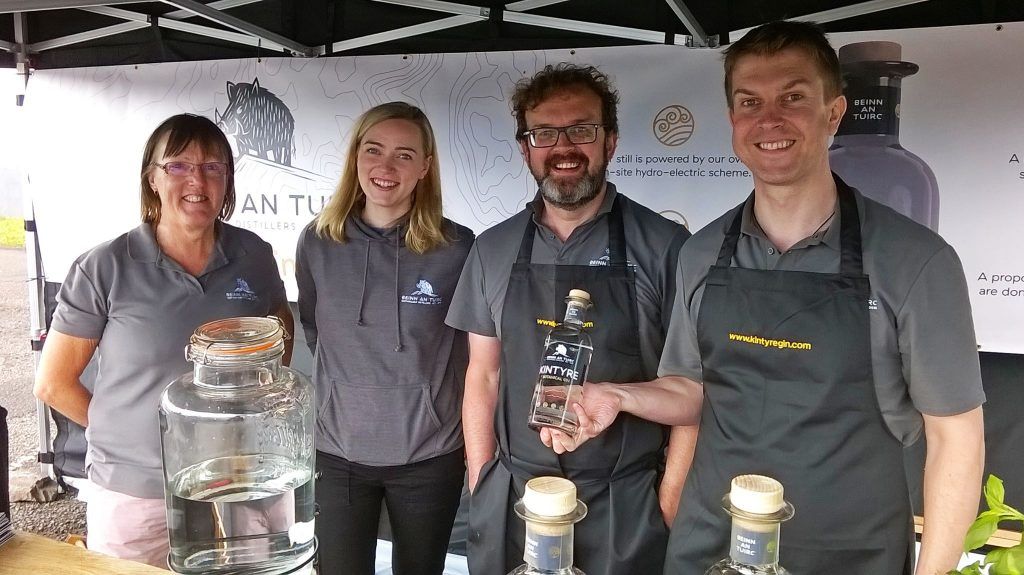 As much as our team may have hoped, the hard work was far from over. Next on the agenda was the final preparations for our launch party at The Glen. It's fair to say we were a little anxious beforehand. Was anyone going to show up? Were we going to incite the modern day gin craze? Or would we achieve a happy medium? Thankfully it was the latter! Despite the official start time of 8pm, The Glen was already filling up with people who'd caught the last bus from Campbeltown. Before we knew it, the G&Ts were flying out and the place was full of people happy to have a Kintyre Gin G&T in their hand. We had some members from local band "The Wee Toon Tellers" who put on some great music that had everyone up dancing all night (see facebook for evidence).
All in all, we were really pleased with how it all went and for our biggest day of events to date there were no big mishaps. We finished the day with…
500 empty bottles of tonic
Over 600 G+Ts drunk
About 250 people attending our launch
5 Beinn An Tuirc team members and 2 helpers all exhausted
Finally, we'd like to give a huge thanks to all the organisers of harbour day and an even bigger thanks to Bill and May from The Glen for hosting our launch and handling all the demand at the bar on Saturday night. Cheers!