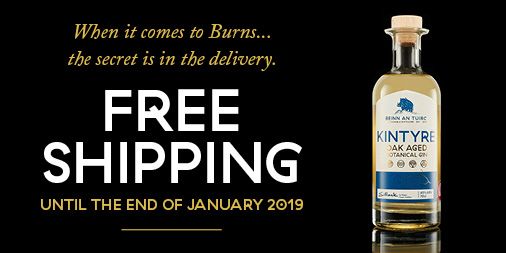 With the bard's birthday fast approaching (Rabbie's, not William's!) we thought we'd do a special offer on our Oak Aged Kintyre Botanical Gin.
Buy a bottle before the end of January and pay nothing for delivery!
This unique spirit has been hugely popular since we launched it in May last year and the first batch sold out over Christmas.  Fortunately we had another batch steeping in the bourbon barrel (kindly donated by Glen Scotia Distillery), which we have just bottled this week.
We recommend ginger ale with a slice of fresh ginger as a perfect serve although this versatile gin also works well with a premium tonic.
We think it's the perfect tipple with which to address the haggis and toast the laddies and lassies!