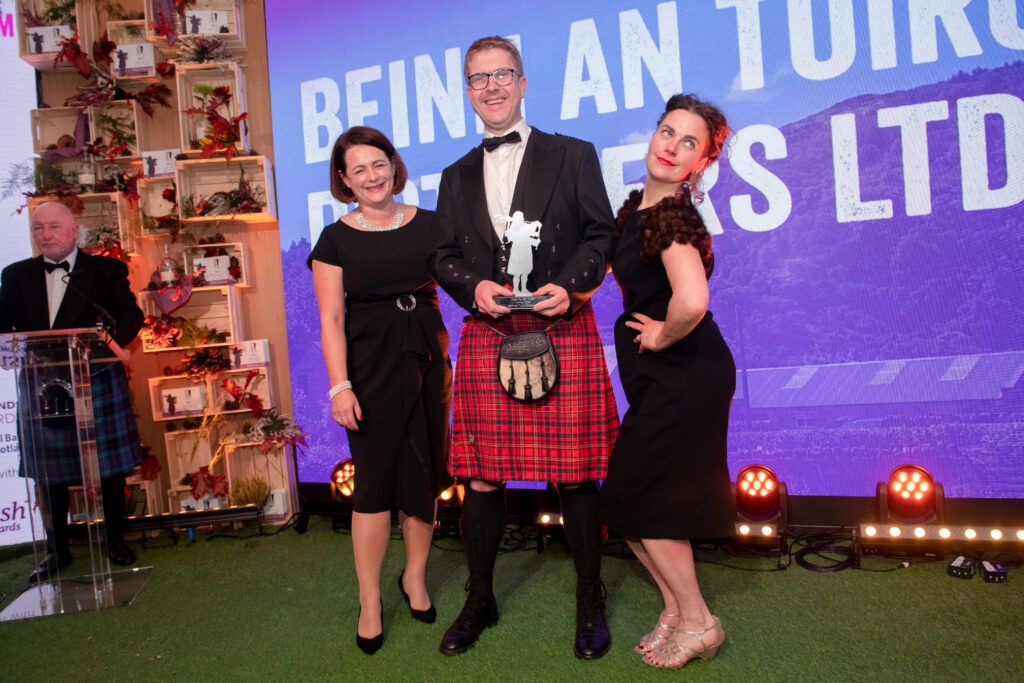 Another one for the shelf! We were delighted to win the Food Tourism Award at the Highlands and Islands Tourism Awards on Friday 4th November.
Boss Hogg and Emma decided two trips to Inverness in a row was a bit much, so stunt-doubles, Niall's brother Kenny and wife Emili gallantly stepped in to represent Beinn an Tuirc Distillers Ltd. (Not even joking about the stunt-doubles – the Kingsmill receptionist proclaimed warmly how nice it was to see them again so soon!).
It was much more relaxing for Niall and Emma waiting at home whilst Kenny and Emily endured the nail-biting moment before hearing our name read out.
This is a wonderful award to win as it is the first time we've entered the business as a tourist destination and acknowledges the fantastic developments we've made to the business since we started up in 2017.
Food and drink tourism is huge in Scotland and the Highlands and Islands region in particular is full of high quality businesses, flying the flag for Scottish produce. This award is designed to celebrate those businesses providing visitors with a unique and memorable tourism experience centred around food and drink.
We receive consistently great feedback from our visitors, many of whom have returned again and again and who are always delighted to see what's new at the distillery. Gin tours continue to be poplular and our gin school has been a wonderful addition, as has the cafe. We are staying true to our sustainable roots by sourcing our ingredients locally where possible and from our own walled garden. We keep things simple and keep waste to an absolute minimum. We also power the cafe from our solar array! Our expansions have also meant increasing our team and we are so lucky to work with fantastic people who are amazing ambassadors for Beinn an Tuirc Distillers Ltd.
As we are regional winners, we will be entered into the highly esteemed Thistle Awards in Edinburgh in 2023. Could be another job for the stunt-doubles!