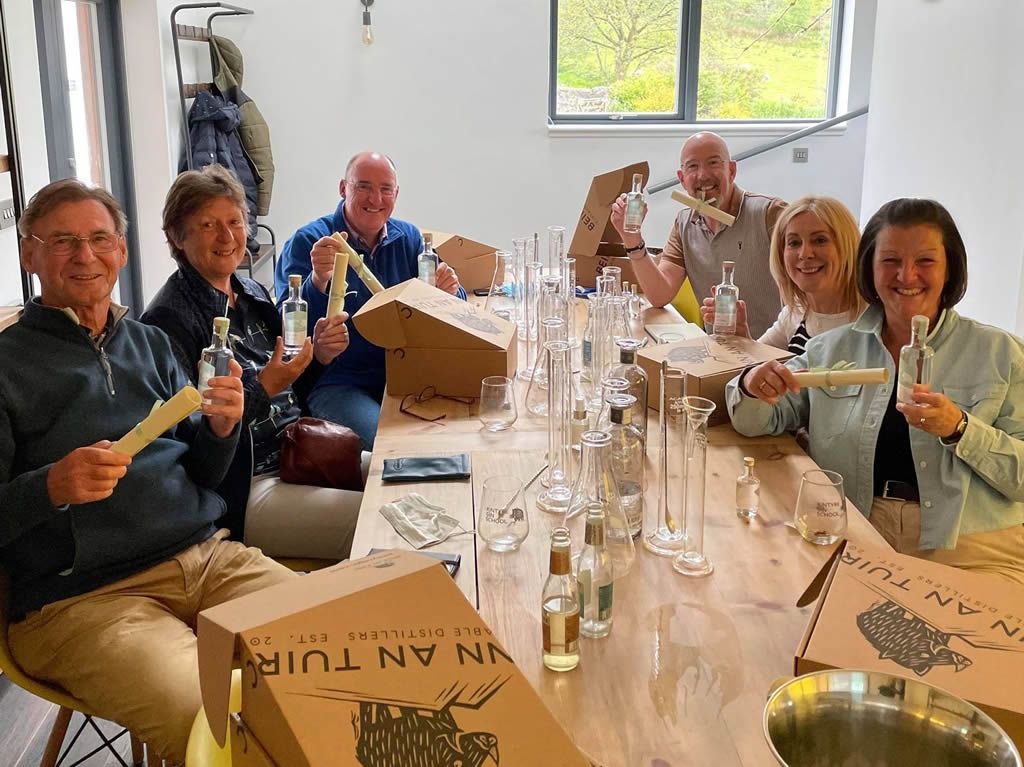 After months of anticipation, and as the pandemic restrictions began to ease, we were able to open up our brand-new purpose built gin school facility on the 24th of May. We have already welcomed many groups of Gin School delegates for a fun filled afternoon, tasting a range of distillates and flavours before ultimately creating and blending their very own unique gin. Students also learn about the origins of gin, are given a tour of our distillery and make a perfect serve G&T and a cocktail with their own blend.
Privileged to be the 1st pupils at Gin School. Great fun and informative. Thank you so much. Best school I've attended – education begins at 60!

Ali McLean
We are running three gin school courses per week, usually on Monday, Wednesday and Friday, but we can accommodate other days on request. Under current regulations we can allow up to 8 adults from 3 households.
Great day. Very informative and interesting. Who knew so much went into making gin! We wish you well for the future. x

Sheila and George Harris
Bookings are coming in thick and fast, and the team can't wait to welcome you all. We have over 30 individual flavours and botanical distillates to choose from when making your gin. Some of these botanicals are commonly used in gin, and some are distinctive and have been
foraged by hand on Torrisdale Estate and our stunning surrounding Kintyre area. To name just a few, we have Torrisdale Gorse Flower, Torrisdale Chilli, and Torrisdale Lemon Balm.
Fantastic experience for our 6th anniversary. Great teaching – friendly, knowledgable & generally delightful 🙂

Sarah and Phil Davies
If you create something truly spectacular we may just use your recipe for new Beinn an Tuirc product! We do keep your recipies on file so we can scale up the recipe for you if you wanted larger quantities, say for a special event.
At the end of the course, delegates are presented with a certificate, two 20cl bottles of their gin and some other goodies to take away. Perfect mementos of a unique experience.
We've had a wonderful, friendly SPIRITUAL afternoon! Thank you!

Alasdair, Ewan, Scott, Suzy, Clodagh and Alfie the cockapoo
Come and see what the fuss is all about! You can check out our availability on the gin school page.