We are in the home straight now – production will commence shortly, as soon as our licence from HMRC is granted.  Our still, 'Big Don', has been installed and connected to the hydro scheme so everything is in place and ready to go. Su is desperate to get started and we can't wait to deliver the first bottles of Kintyre Gin to our wonderful crowdfunders, followed swiftly by the rest of the world!
Niall, Su and myself recently enjoyed a night out researching Kintyre Gin cocktails. We'd put out a plea on Facebook for an Argyll based mixologist and were delighted when David Wood, former owner of Whisky Macs bar in Campbeltown got in touch.
First on the table was a Negroni, a sophisticated classic comprising gin, Campari, sweet vermouth and orange juice.  Not one for the faint-hearted, this really packed a punch but was deliciously smooth and the orange gave it a wonderful sweetness.  While we took it in turns to sip, David was already busy mixing a second cocktail. The pop of a champagne cork gave a big clue as to the components of this 1940s era classic, a French 75. It was delicious. A perfect blend of Kintyre Gin, lemon juice, syrup and bubbly, we couldn't get enough of this one and concluded it would be ideal for exclusive events such as hen parties.
Next up was an old favourite of mine, Long Island Iced Tea. This was perfectly refreshing with it's elaborate blend of gin, vodka, rum and Triple Sec, topped with a dash of cola. For a local twist on this old classic, we could perhaps re-name it the Davaar Island Iced Tea or, as a nod to Kintyre, the Not-Quite-An-Island Iced Tea.
We had barely sucked the last drop out of the ice cubes when David presented us with another time-honoured favourite, the Aviator. Strictly for grown-ups, this combination of gin, Kirsch and syrup, evoked old school Holywood and I really felt entirely under-dressed for it. I also had to fight the urge to throw it dramatically in Niall's face and storm out. Delicious.
By now, only designated driver Niall was still properly in the game as Su and myself were determined not to waste a drop of David's perfectly crafted potions. Our palates at this stage were perhaps not communicating to our brains as well as they should but, being fully committed to the cause, we soldiered on.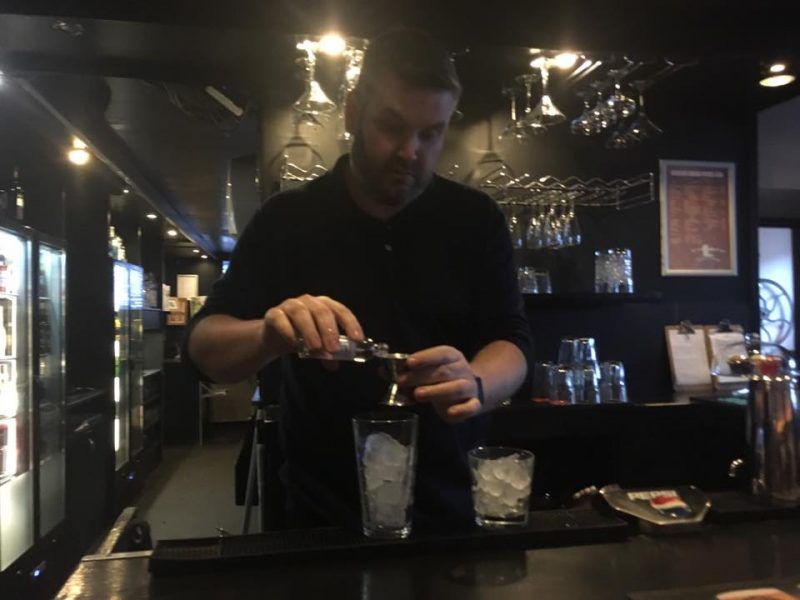 My notes get a bit sketchy at this point but luckily Su could still read her writing the following day and gave me a brief rundown of the last three cocktails. The Elderflower Frost was long and refreshing and the fresh mint worked wonderfully with Kintyre Gin. Niall compared the Bees Knees to "alcoholic Lemsip",  but we all agreed this wasn't necessarily a bad thing. The Bramble was very quaffable, even at this late stage in proceedings and would allow us to make full use of the wild fruit growing on the estate.
Suddenly the evening went a bit 'Alice in Wonderland'.  As I teetered on my bar stool, still reeling from the shock of being out on a school night, I was slightly perplexed by the final offering, which had the intriguing title, Down the Rabbit Hole. We were presented with a glass of blue spirit over ice and a small bottle of yellowish liquid, labelled 'Drink Me'. Niall followed David's instructions and poured the contents of the bottle into the glass. As if by magic, the blue gradually changed  to pink and we were all surprised to taste chocolate when we drank it.  A brilliantly quirky finale to an enlightening evening.
We are looking forward to collaborating with David and current Whisky Macs owner Lewis in the future as there is a lot of scope for pop-up events at Torrisdale and further afield. Next time I might limit myself to just three or four though.
---
Whisky Macs is located on Shore St in Campbeltown, just behind the Factory Shop. As well as fabulous cocktails, they do great food and also have a dance floor. A great place for a night out. Check out their website for more information.