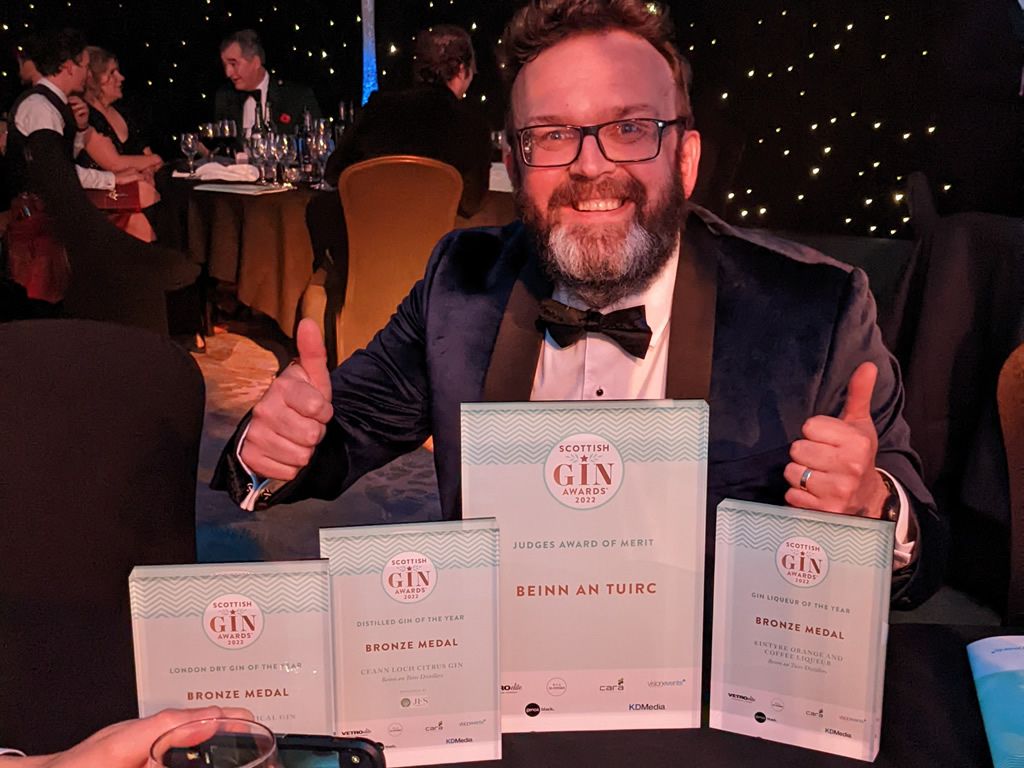 Apologies if this is getting boring but The Scottish Gin Awards officially marked the end of awards season for 2022 and we didn't go home empty handed!
The awards shelf at the cafe is positively bowing as we scooped three bronze awards for Kintyre Gin, Ceann Loch Citrus Gin and Orange and Coffee Liqueur. There are so many incredible Scottish gins in each category so we are very proud to podium for these three.
We were especially proud to receive the Judges Award of Merit for our efforts in sustainability, community engagment and creating a unique gin destination here in Kintyre.
The evening was about so much more than awards though! It was a great opportunity to give our team a wonderful night out at the Double Tree Hilton in Glasgow. They all scrubbed up very well indeed.
It was also great to see so many of our gin industry pals on the night. It's such a tight community and the room generally errupts no matter which distillery name is called out as a winner. The evening went a bit blurry at around 1am when Ian from Tyree Gin bought a round of whiskies and it's fair to say we were cursing him all the way back to Kintyre the next day.
Now the kilts, suits and fancy frocks have been packed away until next year and it's back to business as usual at our wee award-winning sustainable distillery here in Kintyre. There's lots happening in the coming weeks up to Christmas including a very limited edition Christmas gin, a live performance in the cafe and our annual craft fayre.
Awards or not (although they do look good on the shelf), we absolutely love doing what we're doing!