As it is International Women's Day we thought we should shine a spotlight on the four fabulous women who make it all happen for Kintyre Gin.
Men are actually outnumbered at Beinn an Tuirc so we probably need to work on that gender balance at some point but we are absolutely committed to finding the right people for our team regardless of quotas, be it gender or anything else. We hope we have created a fun, creative working environment where our employees can be themselves and thrive at their careers.  We often joke that everyone is treated equally at Beinn an Tuirc – as in equally badly!  Public humiliation for minor misdemeanors has become at least a daily occurrence for every one of us. Even Boss Hogg!
But lets hear it for the girls.  First up is our head distiller.
Su Black
Su had a successful 20 year career in the male-dominated oil industry before deciding to pack it all in and follow her passion for brewing and distilling. She completed a masters course in the subject at Heriot Watt University in 2014 and had several roles in distilleries around Scotland before joining the Beinn an Tuirc team in 2017.  Su's first job was to scale up our original recipe which she nailed impressively quickly. Since then she has powered through over 40 batches of our signature Kintyre Gin, developed our unique Oak Aged Kintyre Gin, created the much-lauded Kintyre Pink, experimented successfully with our home-grown apples and wild brambles and collaborated with Ncn'ean Distillery on their distilled botanical spirit.
She has become very much part of the family (SORRY SU!) and has been adopted by Crumble the labrador as a second mummy.
It's been fantastic to be involved in a new distillery from the beginning. Beinn an Tuirc Distillers have sustainability at their heart and keep this at the fore of everything they do. It's a great, fun working environment and my walk to work takes me past amazing scenery and wildlife. I love living in Kintyre!
Tracey Muscroft
Shop Manager and Admin Assistant Tracey joined the team just over a year ago and keeps us all organised, makes sure invoices are paid on time and is a brilliant sales person in the shop. Her background is in sales and she left a high-powered career in England to live the good-life in a beautiful converted croft at Torrisdale Estate with husband Pete and son Kieran. Pete also works for us on the estate side of things and quite honestly we don't know where we would be without this amazing pair. Tracey says:
My previous career before moving to the area was pressurised and 24/7 , now living here we are living more towards self sufficiency and now working at BaT its wonderful to be part of such a great team.  The gin has such a great back story, and I love being part of it.   I call Kintyre Gin the gin that keeps on giving a bit like living here in Kintyre, it keeps on giving, not taking.
Arafa Rashid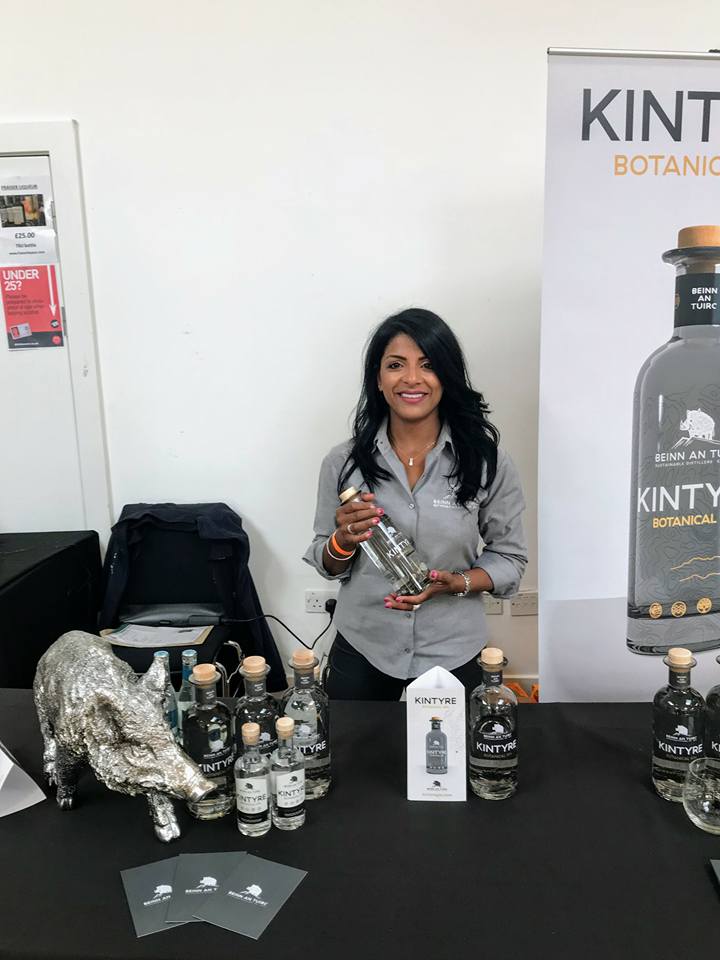 Arafa joined the team in February 2018 as our Brand Ambassador and has done an amazing job of increasing the reach of Kintyre Gin. Thanks to Arafa Kintyre Gin is available in bars and restaurants throughout Scotland and she regularly travels the country doing tastings at stockists and bars. She is passionate about sharing the story of Kintyre Gin and is a fantastic champion of our brand.
Emma Macalister Hall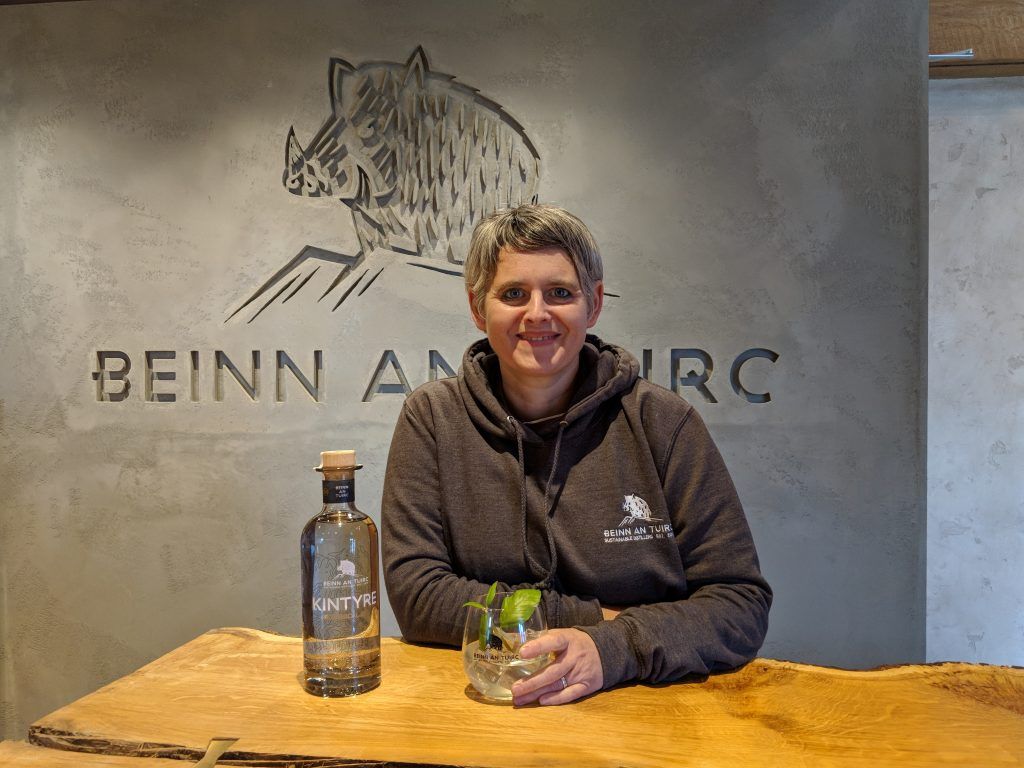 And now ME! I am a co-director of Beinn an Tuirc Distillers alongside my husband Boss Hogg (Niall!) and his brother Kenny.  I love the fact we are very much a family business and Kintyre Gin was born from a desire to keep the family estate going and to find sustainable ways to invest in Torrisdale's future.
Running our own business gives us the luxury of balancing family life on our own terms. We are lucky that we also have fantastic family support around us from Niall's mum and aunt which is something I hope we never take for granted.  It is always a juggle though.  Because my main role is social media marketing, I spend a lot of time on my phone or laptop and consequently have zero authority when I'm screaming at the kids to get of their tablets!