If you saw last week's blog then you should already know a bit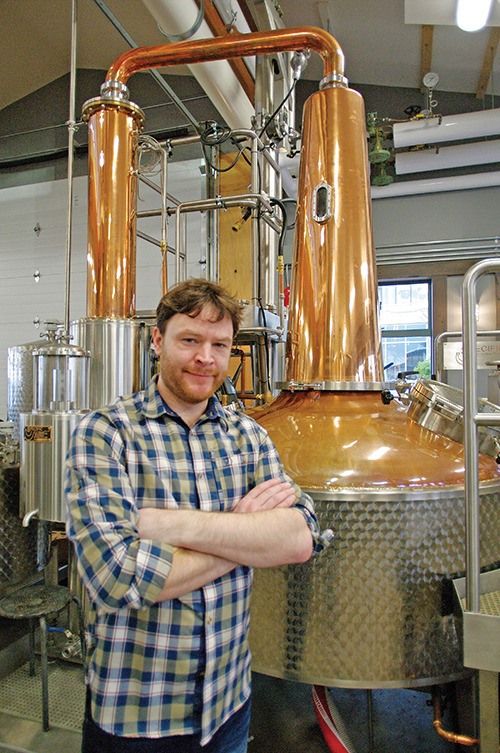 about our botanicals. But how did we come to choose those botanicals? Well, it was all done with help of master distiller Leon Webb, who constructed our precious gin recipe. He's now working for Victoria Distillers in British Columbia, Canada where he is currently developing some exciting concoctions such as their Empress 1908 gin – a 100% natural gin with a violet colouring, thanks to an infusion of vibrantly tinted butterfly pea blossom, which changes to a soft pink colour when citric or tonic is added. Very cool!
Leon took some time out of his busy schedule to answer a few questions about his be-GIN-nings (sorry…) in the distilling business and the Kintyre Gin recipe:
What got you in to distilling and how long have you been doing it for?
I worked in finance for 10 years before deciding upon a career change. I then quit my office job and did a masters degree in Brewing & Distilling at Heriot-Watt University. I worked at Edradour and the Isle of Harris Distillery before taking on the recipe development project at Beinn An Tuirc Distillers. I wanted to do something that was motivated by passion more than money. In the two years since I left finance, I have met incredibly enthusiastic people and have had the pleasure of working in such beautiful places.
How did you come to know Beinn An Tuirc Distillers?
I was working on a project for the Isle of Harris Distillery and Annabel Meikle (the whisky belle) mentioned that Niall was looking for someone to develop a gin recipe. Having helped develop the Isle of Harris Gin recipe I was keen to take on another project in a beautiful and fascinating part of Scotland. Beinn An Tuirc Distillers was the perfect fit.
Where did you find your inspiration for the recipe?
My inspiration for the recipe came from several meandering walks around the Torrisdale castle estate and the Kintyre Way. The plant life is rich and abundant on the Kintyre peninsula. The tannery, walled garden and viking connection all played a part in my selection of botanicals.
How many attempts/ how long until you perfected the recipe?
Recipe development took two months and involved many trial distillations in the distilling lab at Heriot-Watt University. The final recipe was selected after a tasting panel at Torrisdale Castle.
What about the Kintyre Gin recipe makes it distinct from other gins?
Balance and 'drinkability' are important in any gin recipe and my focus was on creating a Kintyre gin that people could enjoy time and time again. The use of sheep sorrel and Icelandic moss helped create a unique and delicious recipe.
For those waiting for a taste of the gin, what kind of taste should they be expecting?
The flavour is complex and alluring, with delicate floral notes and citrus body, with a juniper and spice finish.
Lastly, what would you recommend as the best way to enjoy Kintyre Gin?
The gin is best enjoyed in a gin and tonic with a slice of lemon or pink grapefruit. However, as the gin is well balanced it will work well in many different cocktails.